Bagan Balloon Rides – Tranquility and Wonder
Wonder. Amazement. Awe.
Majestic. Mesmerising. Magnificent.
You'll have seen the photos before your flight. You will have explored the temples on the ground, on foot or by scooter. You'll think you know what you're about to experience.
It will be so much more than what you expect.
A thousand adjectives still won't describe the experience with any satisfaction. You'll try. You'll tell everyone you know and everyone you meet, all about it, and you'll throw in words like magical and breathtaking and wonderful and you'll know you're still not doing it justice.
All the details you need to know about booking – times, costs, companies, safety – follow at the end. But first, let me show you some photos.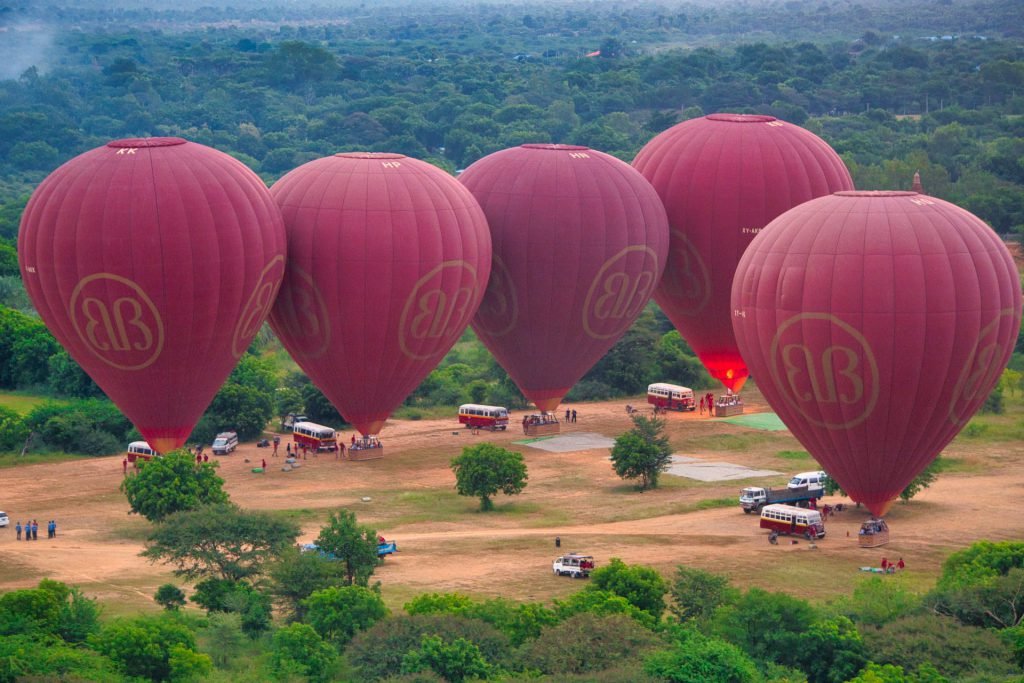 It starts before dawn. You were awake late, unable to sleep, excited about the prospect like a kid on Christmas eve. You jump out of bed early anyway, eager to get there. The minibus from the balloon company arrives at your hotel, and you find a seat next to the other eager flyers.
The anticipation is unbearable, in a good way.
It's a short ride to the launch site. The winds during balloon season are fairly light and consistent, so the launch site is usually the same. Getting off the minibus, you see dozens of balloons in various stages of inflation. All the different companies are using the same launch site.
There's a catering wagon, and several long tables with folding chairs. Croissants and coffee for breakfast, while you get to know your fellow flyers.
Watching the balloons being set up is an eye opener if you've never seen it before. The wicker baskets are big and heavy, room enough for 10 or 12 people. Brought to the field on trailers pulled by tractors, and unloaded by the tractor. They're way too big to manhandle.
It's surprising to see how labour intensive the whole operation is. There isn't just a balloon pilot, there's a huge team of people involved. Manning the catering vehicles and driving the tractors is just the start.
The pilots are by and large European or Australian, and a Canadian. Balloons are expensive, and training and qualifying to be a professional balloon pilot is very expensive, lengthy, and rigorous. This means that the balloon operating companies are generally, like the pilots, based out of Europe.
Bagan balloon rides are not year round. There is a short period of suitable weather, and the companies and pilots come here just for the season. During the flying season, the morning winds are a steady 15mph or less, and in a predictable direction.
The pilots may be foreigners, but there are dozens of locals employed. All the manpower required to get the balloons inflated, safely guide and control it during the ascent, and again during landing, are local people.
You don't just get in the basket and turn on the burner. There are half a dozen people hanging on to ropes attached to the basket, like a tug of war as they control the balloon until it's clear of obstacles.
And the landing. I'm not going to spoil it for you, but if you've never had a hot air balloon flight before then the landing will be exciting. If it is going to be your first time, a Bagan balloon ride is the perfect place to start.
Soon, the balloon will be up, you climb into the basket, and you will be very, very excited.
A few more blasts of the burner. The pilots are communicating with each other by radio. Some commands to the ground crew. Cameras are clicking. Some knuckles are whitening, but everyone is grinning. And you're off the ground!
There is plenty of space. Everyone gets an unobstructed view standing at the outside edge, and space to operate cameras without being elbowed. If you're not on the right side approaching a big temple then you will be as you go beyond the temple. You won't miss anything or feel crowded.
It's calmer and smoother than you expect. Effortless, not scary at all. You're so busy with the camera you haven't thought about any aspect of danger for even a second. Then you look down for the first time and have a moment of shock at just how high you now are.
Looking around at all the other balloons, some already much higher and sailing away, others still tethered to the ground, you realise the scale of the operation and the popularity of the Bagan balloon rides. It's the number 1 thing to do in Myanmar by far, and it deserves the reputation.
Soaring through the sky now, over the plains. Lots of cultivated agricultural land, but in the distance you can see the thousands of temples scattered over a vast area, the Irrawaddy River curving past in the background. The ride is so smooth. No swinging or swaying, no rush of air, no feeling of instability or fragility. Strong and stable.
Remember to put the camera down and enjoy it for a while. Don't worry, there will be loads of time to take pictures.
Over the temples, you really do get a fantastic view. They are amazing on the ground, and you must visit them on the ground, but a Bagan balloon flight has a different impact. You can see so much more of the scale, the expanse, the incredible number of temples.
You see the spatial relationships between them, the different styles and sizes, the clusters and the lines.
There are thousands of temples. It's one of the most important archaeological sites in Asia. The photos you take will be the most spectacular you've ever managed.
A Bagan balloon flight is an absolute must, but what you should also do on another day is get out to the temples at sunrise and watch the balloons from the ground.
Rent one of the electric scooters, or e-bikes, from your accommodation. Avoid the biggest temples where everyone else has gone, and find your own spot, like this.
You might see interesting things that aren't temples. I saw this local couple having some wedding photos taken against the backdrop of the temples at sunrise.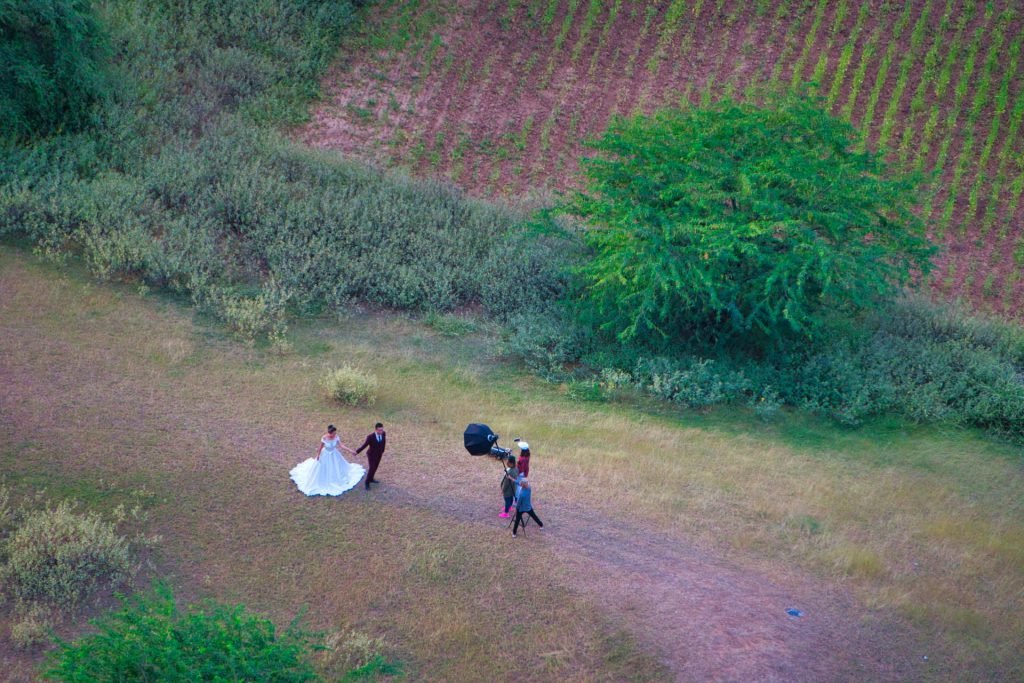 The time will fly by, you'll take a million photos, you will be so happy that you booked your Bagan balloon ride. You were maybe hesitant. It's only a balloon, you can see the temples on the ground, you'll tell yourself. For many people, the cost will be a big piece of their Myanmar budget.
You will be so very happy that you decided to do it. You will.
After the landing, you'll be buzzing. Everyone is happy, everyone is talking about it, laughing. Chances are you'll now be having a glass of Champagne, maybe some fresh fruit.
You'll be seriously thinking about seeing if you can get space on tomorrow's ride.
It's over, but Bagan isn't. Explore the temples, find a spot to watch the sunset.
For many people, the answer to the question "What's the best thing to do in Myanmar?" is simply "A Bagan balloon ride".
Chances are it will be your favourite too. Joint favourite, anyway.
Myanmar is a fascinating, varied, and spectacular country. For me, the Bagan balloon ride at sunrise, the Shwedagon Pagoda at sunset, the floating villages on Lake Inle, and the very friendly people, will all stay near the top of my list of favourite travel experiences, even after 106 countries.
Bagan Balloon ride safety
The balloon companies listed on this page are typically European-owned and always operated by experienced and qualified balloon pilots. Think of a qualified balloon pilot in the same way you would think of an airline pilot. They have rules and procedures and they follow them. They have trained and practiced and been examined and certified.
The balloons and baskets and other equipment are generally European built according to European safety standards.
Bagan Balloon ride booking
The ballooning season in Myanmar is October to April. You will not find reliable, qualified balloon operators outside this season.
The Bagan balloon ride is the number one item on most visitor's lists. You must book as far in advance as you possibly can.
Most operators offer refundable bookings. You will find that flights are fully booked 6 or more months in advance.
If everything is booked, ask to be put on a waiting list, but make sure to periodically follow up yourself.
You can book online direct with the operators, and you don't need to use a tour booking service.
Peak times are Christmas, New Year, Chinese New Year, and Valentine's Day. If you want to fly at those times you really must book a long way in advance and be prepared to pay premium prices.
Bagan Balloon ride prices
Expect to pay between $300 and $400 per person, and don't expect any discounts. It's far too popular.
For many of you, that will sound like a lot. It did to me. I am so glad I booked anyway. I have no hesitation in recommending that you do it too.
Myanmar can be a difficult place when it comes to credit card transactions. The balloon operators accept online payments, but you may well find that your credit card issuer declines the payment because they are not used to seeing Myanmar as the origin. You may well have to try several different cards before you are successful.
American Express is generally not accepted in Myanmar, even at major international hotels.
Bagan Balloon ride companies
Whichever operator you choose, the flights launch at the same place at the same time, and land at the same place at the same time. They all offer hotel pickup and drop off, and they all offer some sort of pre-flight breakfast and post-flight Champagne.
Some options include a commemorative certificate and maybe a baseball cap. The flights are all abut 45 minutes, whichever company you use.
Oriental Ballooning
I flew with Oriental Ballooning, simply because they were the only company with availability on my dates. They allow online booking and payment, were very good with email support, and they did everything exactly as they said they would.
The flight was perfect, the Champagne was delicious, I got an Oriental Ballooning baseball cap and a commemorative certificate.
The Oriental Ballooning balloons are a dark green, less colourful than the reds and yellows of the other companies. This means that once you're in the air, your photos will have the pretty red and yellow balloons in them!
The price is typically $400, and the service is similar to the premium services offered by the other two.
Oriental Ballooning employ over 100 local staff. Impressively, they also employ them through the off-season when no flights are happening, and they give their staff free English lessons, helping them pursue other opportunities in Myanmar's tourism industry.
This sort of thing is important. Some people will question your intention to travel to Myanmar. Understand that by visiting Myanmar you are not supporting any politicians or any military, you are putting money into the hands of the local population who depend on tourism.
You are also informing yourself and others, including the people of Myanmar, about the world. Travel brings an exchange of culture and knowledge and ideas and experiences and information, and that exchange is what causes societies to grow and evolve and to change. This is why we travel.
Balloons Over Bagan
Balloons Over Bagan operate the striking red balloons and have the funky vintage buses you see in the photos above. The other companies use plain old Toyotas.
Balloons Over Bagan offer a standard flight, or a premium service that promises a couple fewer people in the basket and a posher breakfast. The prices start at $280 for the standard and $380 for the premium.
Like Oriental Ballooning, all the equipment is made in the UK and the pilots are qualified in the UK.
Golden Eagle Ballooning
Golden Eagle Ballooning have the beautiful yellow balloons. Their balloons are built in Spain to European standards, and pilots are qualified and experienced just like the other companies.
Wheras Oriental Ballooning offer one service, and Balloons Over Bagan offer two, Golden Eagle go one further and have 3 options.
The Classic flight starts at $330, rising to $350 at peak times. It includes the champagne after landing and a flight certificate.
The Premium service is $390 or $410 at peak times. The difference is fewer people in the basket, a souvenir (eg a baseball cap) and photos of you in the basket.
The VIP service is a private charter. Realise that you're paying for a balloon that normally carries 10 people, and requires a ground team of at least another 10, and you'll understand why the price is $4000!
Bagan Balloon flight time and other details
Depending on your exact date the details will vary slightly, so check the confirmation from your provider.
In general, you will be picked up from your hotel (assuming you're staying in or close to Bagan) between 05:00 and 05:30. Flights always take off just after sunrise. Safety regulations prohibit launches in the dark. Sunrise is earlier in October and March and later in December, so if your dates are closer to December yo may get an extra 30 minutes in bed.
Because most people arrive in Bagan a day or two before their flight, the operators expect you to confirm with them once you are in Bagan. Don't forget to do this, or you may find that your booking gets cancelled and you won't be collected.
Several of the operators have desks at Nyaung Oo Airport. If you arrive there, find the desk and register.
If you don't register at the airport, or have been in town for several days, then the best thing to do is show your booking details to your accommodation host, and ask them to phone and confirm, and to check the pick up times. They're used to doing this, so don't be shy.
When booking, you will be asked to give your weight. You don't have to be too accurate, but don't fib about it, because there are limits on the balloon capacity and they also have to make sure it is balanced. If you are over 125kg / 280 pounds, you will most likely be asked to pay for 2 spaces.
You should also know that you do need to be able to climb in and out of the basket without assistance. There are footholds built into the basket, so you don't have to be an athlete, but you do need to be mobile. If you aren't mobile, be up front about it when booking and let them try to accommodate you. If you just turn up, they won't let you even try to get in, because they have to follow safety rules.
Links
Myanmar Guide Books
There are some excellent up-to-date guide books available. My favourite is the Lonely Planet Myanmar Travel Guide, which you can buy directly from the Lonely Planet shop, or click below to check prices at Amazon.