Lufthansa First Class Terminal – Home of the rubber duck
The Lufthansa First Class Terminal is a bucket list essential for a frequent flyer, or someone like me who doesn't fly all that frequently but loves to maximise the experience by exploiting some credit card points.
An entire terminal, just for First Class.
A Porsche to drive you to the aircraft.
The famous rubber duck to add to your collection of aviation souvenirs.
Some miles from a credit card, an Economist subscription, a few Lufthansa flights around Europe on my quest to visit every country in the world, and some Hilton stays during a generous Miles & More promo was all it took to get the 105,000 miles I needed to fly the Lufthansa 747 in first class to Shanghai.
Here's where the Lufthansa 747 still flies, and how to book it with miles, if you fancy some caviar and Champagne.
My top tip if you book a Lufthansa award flight out of Frankfurt is to add on a connection from Zurich with Swiss at no extra cost, and see if you can wangle an invite into the incredible Swiss First Class Terminal at Zurich airport.
After the heavenly food, perfect service, beautiful environment (even a view of the runway from the gent's toilet!), and the luxurious private day-room at the Swiss first class terminal, I was a little disappointed when my connecting flight landed at Frankfurt and it looked like I would have to ride the bus to the terminal.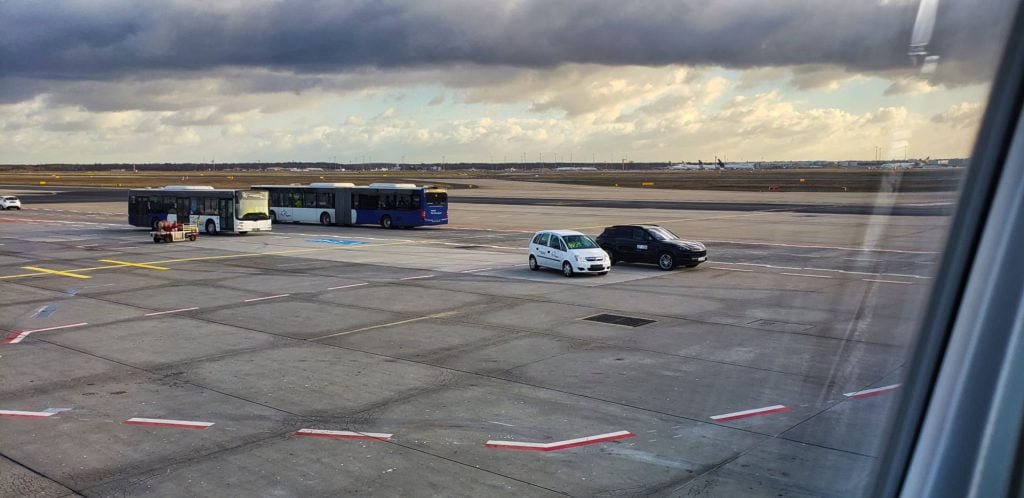 But no! The First Class treatment starts as soon as you arrive. While I was sitting on the Swiss aircraft waiting to de-plane, looking at the bus awaiting us, a Porsche pulled up. I thought, surely that's not for me. That would be too good to be true. Is it for me? How cool would it be if that Porsche has come to pick me up.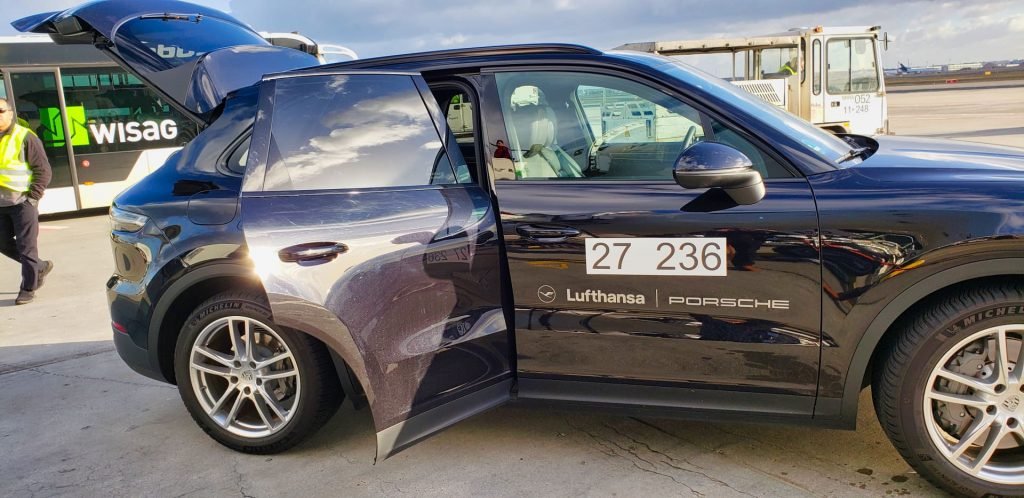 I'd had an unexpected drive to the aircraft at Zurich, in one of the Swiss first class BMWs, and it was a real treat to be driven to the plane before anyone else. Surely I can't be lucky enough to have a Porsche meet me at the other end too?
When I came down the steps and saw the Lufthansa staff holding a board with my name on it, I must have been grinning like a lottery winner! Into the Porsche, and a quick drive over to the Lufthansa first class terminal.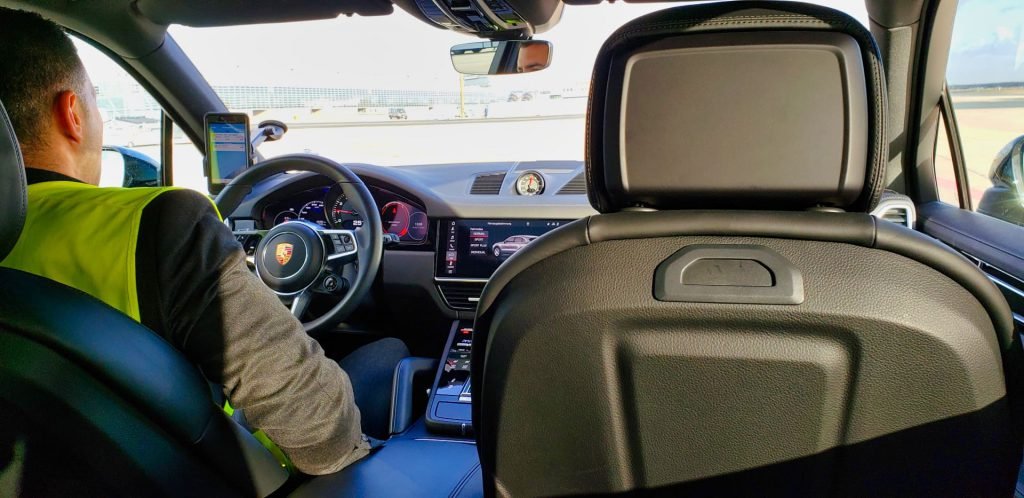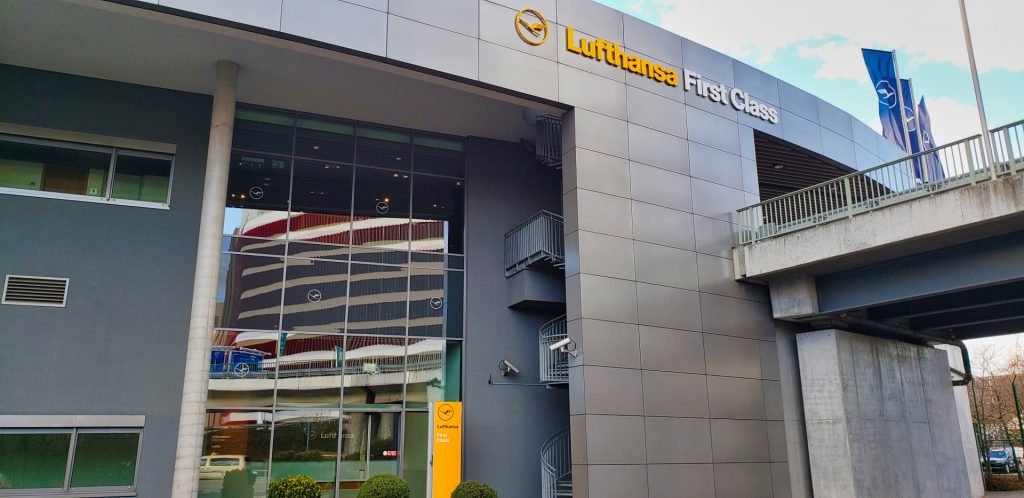 Once inside, where there is a vast amount of space and just a handful of other passengers, you get shown around the luxurious facilities. There are several different dining areas, with a self-serve buffet and a a la carte, a huge bar, loads of different seating areas where you can easily find a very quiet place to relax, and a massive assortment of magazines and newspapers.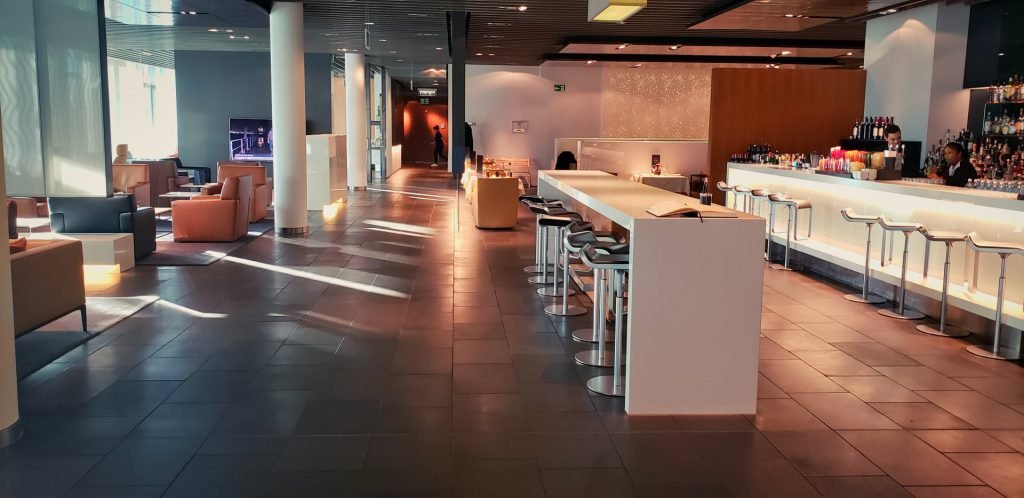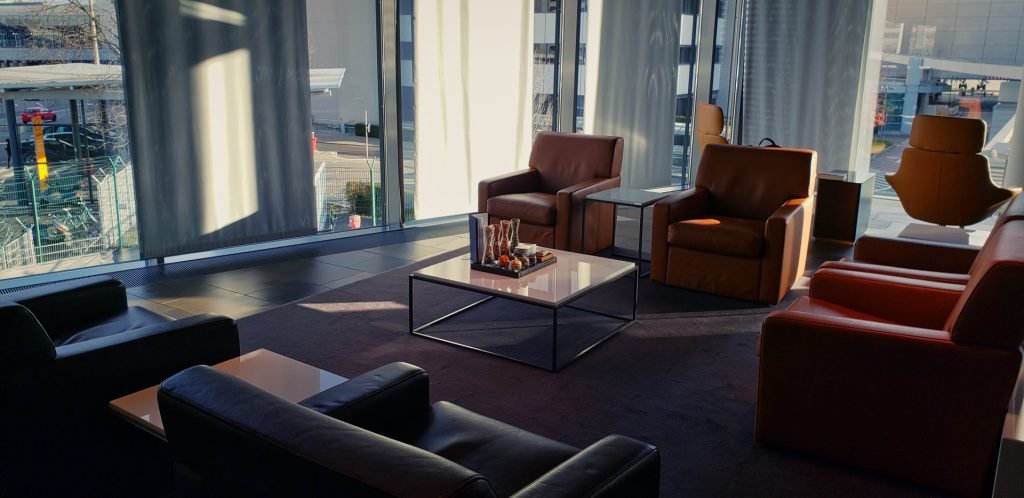 The first order of business is to book yourself onto the list for one of the private bathrooms.
With your bath scheduled, time to enjoy some food.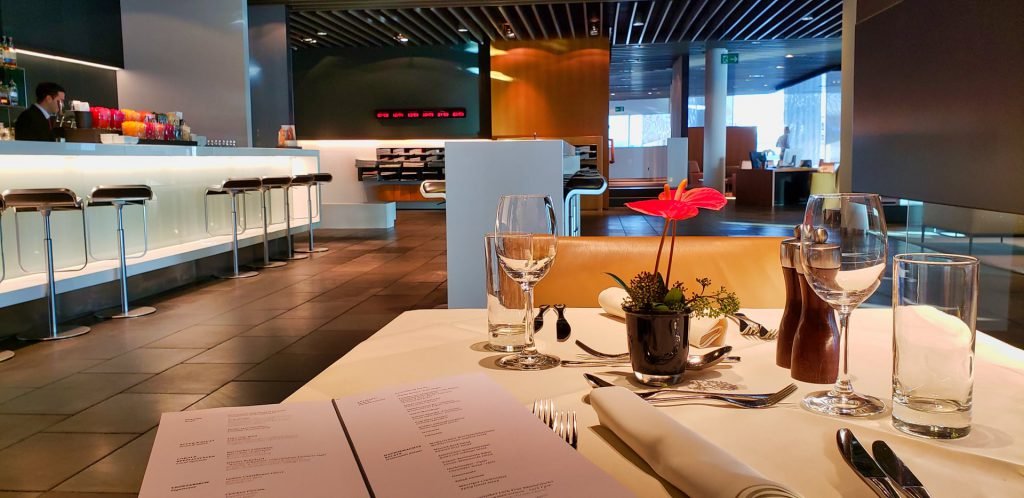 You know, my initial reaction when I arrived at the Lufthansa First Class Terminal at Frankfurt, having just come from the Swiss First Class Terminal at Zurich, was that the Swiss terminal was better.
Looking back, I find it hard to pick a winner.
The Swiss first class terminal is lighter and brighter because of the floor-to-ceiling windows that go almost all the way around the space. The colour scheme is fresher and whiter and brighter. It has great views over the runway and you can watch the aircraft coming and going.
The food is a sensation, the service is not just expertly professional but also very friendly and personal. Then of course you have the amazing day room with a bed and bathroom.
It felt very exclusive. Perhaps it had more of an impact because I hadn't expected to get in, but fluked an invite in spite of the official access rules.
The Lufthansa first class terminal has a darker, richer colour scheme and less natural light. I was there at mid-day but inside it feels like evening. The Swiss terminal has a bright and minimalist styles whereas the Lufthansa terminal feels more like a private members club.
At the Lufthansa terminal there are private bathrooms, but no day rooms with beds.
On the other hand, the Lufthansa first class terminal beats the Swiss terminal if you are particularly fond of gummi bears.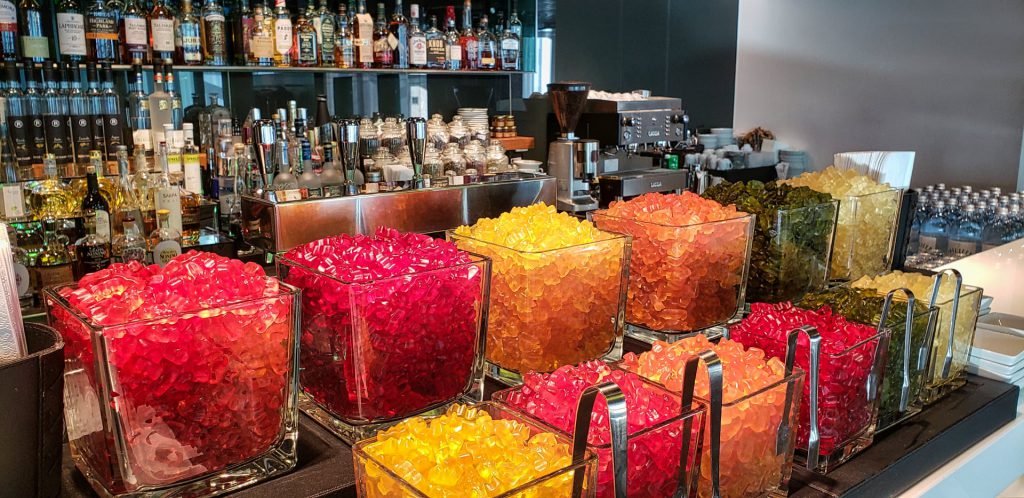 So, lunchtime. Wiener Schnitzel, of course. And it's better than any I've ever had, ever, and as a biker and Nurburgring enthusiast I go to Germany a lot.
The gingerbread mousse is the most delicious pudding ever, and the Bollinger Champagne is (surprise) very nice.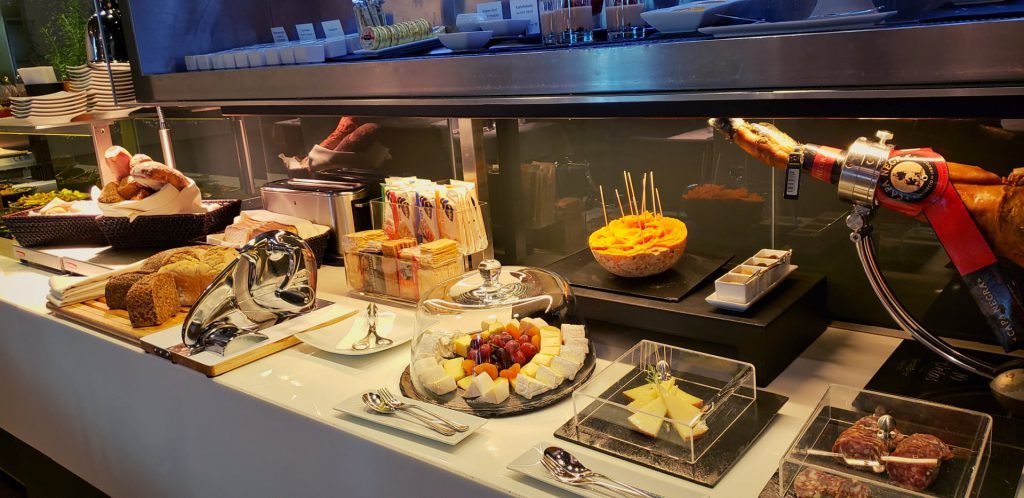 When you peruse the menu, understand that some of the items listed are already out on the buffet, and some are made to order. It's pretty obvious which is which, but be sure to have a look around the buffet before you order. I'm hungry just thinking about it….
So far so good.
One goal left: nicking a rubber duck from the private bathrooms, apparently the top of the to do list for every travel blogger. I put my name on the waiting list for a bathroom when I came in. While I'm waiting for my turn, someone comes over and gives me one of the famous ducks: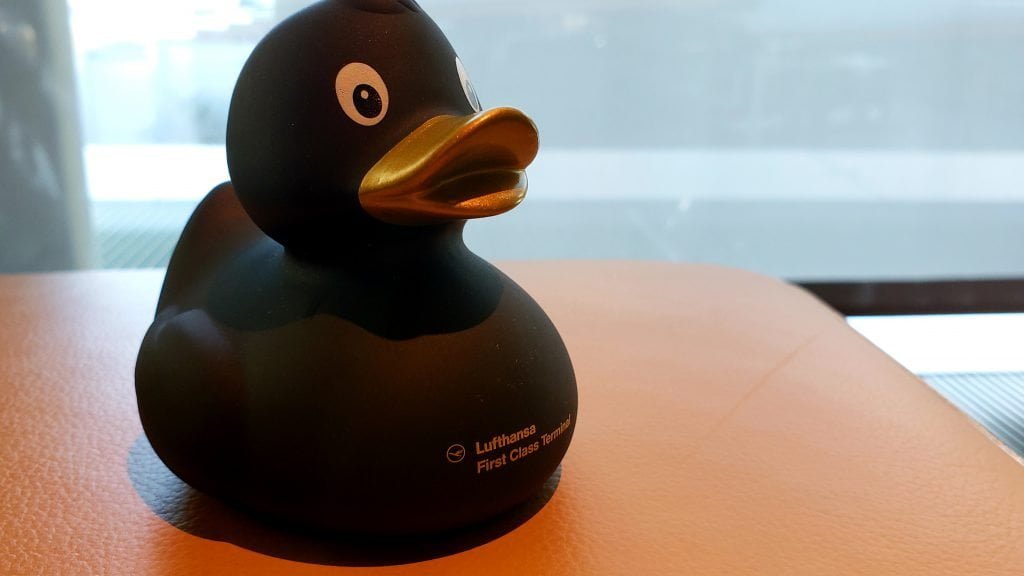 Another pointless travel blogging mission accomplished! Although, it spoils the fun a little if someone just gives it to you and you don't have to swipe one from the bathroom.
The rum menu is even better than the Champagne. (There's 4 pages of whiskey to choose from if that's your preference.)
I do like rum. The sommelier suggests the Dictador, a Colombian rum that is rich and smooth like honey, and it shows how well trained the staff are. Most rum tastes much the same with small variations in sweetness and woodiness, but the Dictador was very distinctive, in a nice way, with a beautiful slippery texture.
The private bathroom is classy, and I have to have a bath, not because I want one but because how often do you get your own bathroom in an airport lounge?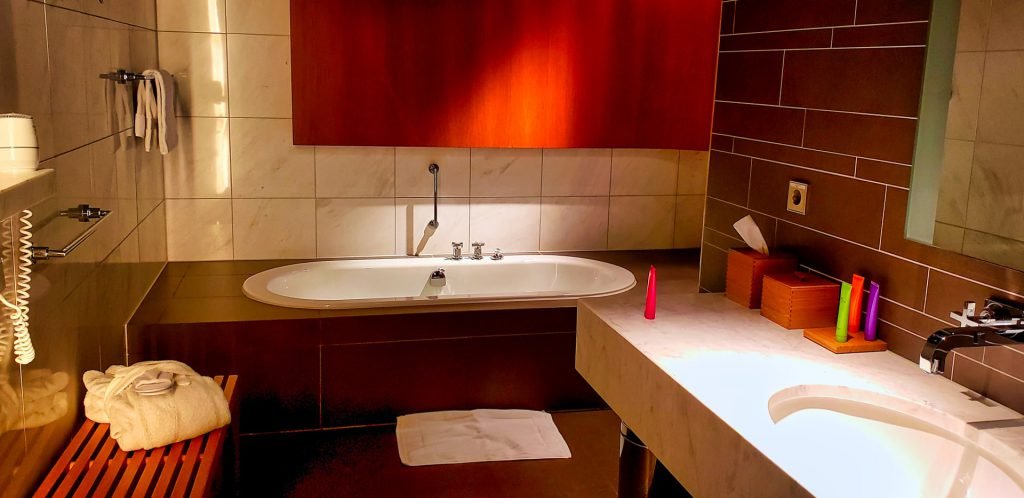 Next time you're looking for the least disgusting loo in an airport, remember that the first class passengers are taking a bath in luxury with a glass of Bollinger.
4th meal of the day: filet steak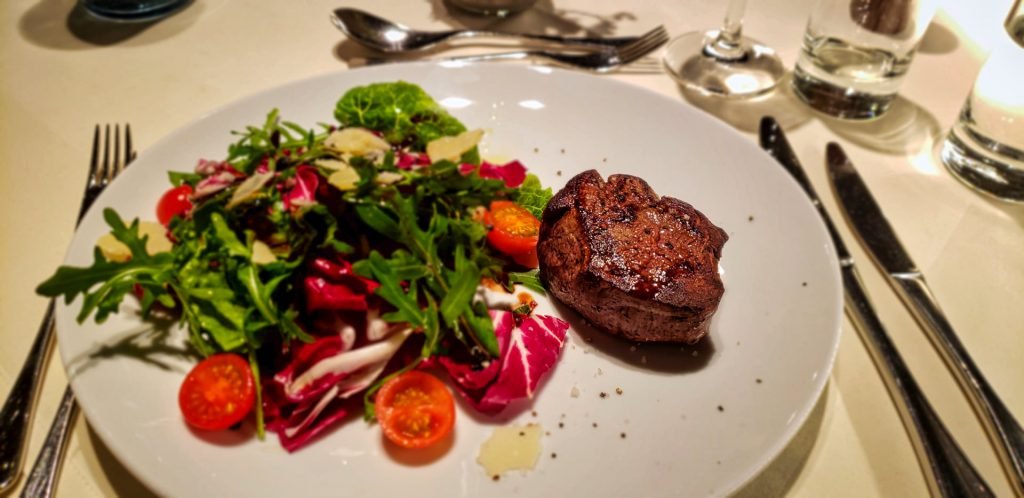 Correction. Exceptional filet steak…
Eventually, sadly, the time comes when you have to leave. A Lufthansa staff member will come to find you and tell you it's time to go. They escort you to a dedicated customs desk for passport formalities, and then out to your waiting car.
Some people get a minibus. I was hoping for a Porsche, and there it was. A beautiful new Panamera just for me.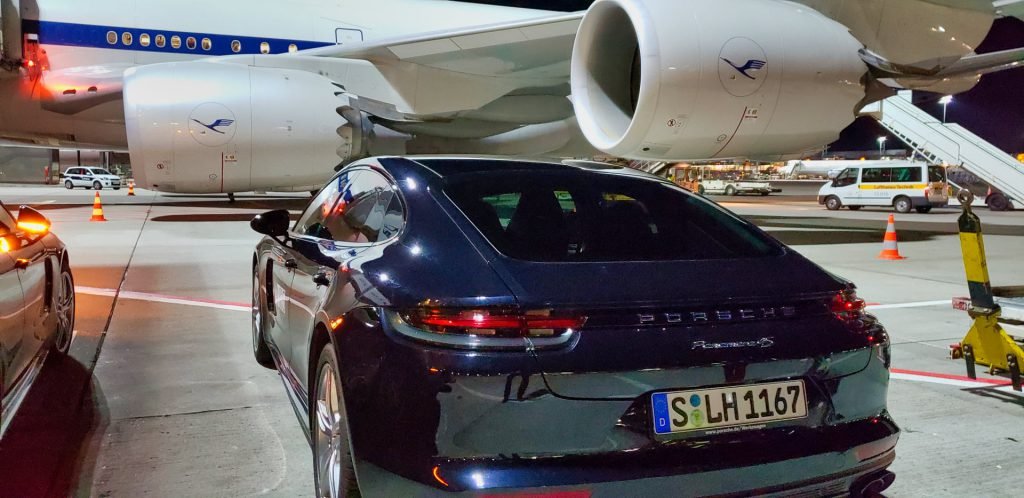 Shame the ride to the aircraft is so short, but still, it's my third first class private car transfer across the tarmac today.
Up the lift to the 747 and to my first class seat for a flight to Shanghai and plenty more superb food and expensive Champagne.
The Lufthansa First Class terminal will have you feeling like a billionaire, but all it takes is a few Miles & More miles.