Marriott Bonvoy: Category changes coming 4th March
Today, Marriott Bonvoy announced changes to award categories that will come into force starting on 4th March.
A full list of hotels by category follows below. Here's a summary of the changes:
71% will remain unchanged
7% are decreasing in points needed for a free night
22% are increasing
Of those changing, 84% are within categories 1-5.
If you are planning a stay, check whether the hotel is moving up or down, and either lock in your booking as soon as possible, or wait until after 4th March.
There's another change happening now.
Every Bonvoy hotel offers standard rooms for award redemptions every day of the year. At peak times, as well as the peak redemption pricing, hotels may limit the number of standard rooms available for redemption.
Until now, only some hotel brands had access to inventory controls but this is being extended to all hotels beginning today.
This may be less alarming than it sounds because they are also reducing the number of days hotels can use inventory controls.
This means fewer days in total subject to inventory controls, but likely means all Bonvoy properties will be harder to book for peak times. Peak times are of course when it's most beneficial to redeem points, but the introduction of peak and off-peak pricing already compromised that. It's now even more important to 1) book early, and 2) time it right.
Which hotels are changing? What does this mean for the value of a Marriott Bonvoy point?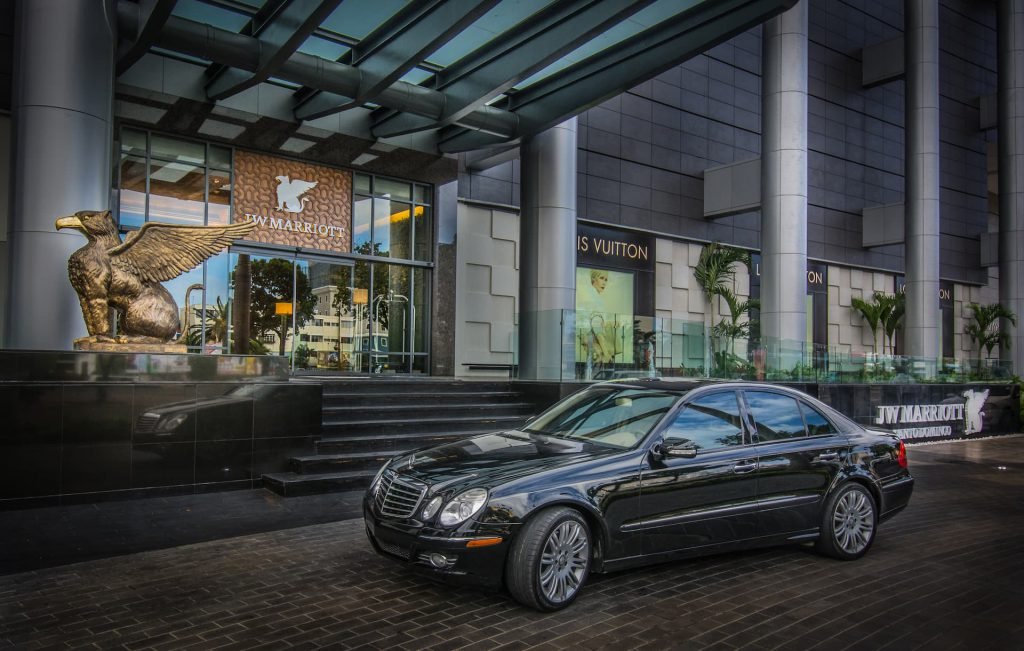 Marriott Bonvoy Redemption Price Chart
Here's the redemption chart. With my Bonvoy point valuation of 0.65p, this puts a Standard night in a category 5 hotel at £227 worth of points.
A Peak night at category 5 is £260.
In category 8, Standard and Peak nights would be £552 and £650.
Picking your timing, assuming the availability of rooms on peak dates, and picking the right hotel, this value has been easy to achieve.
Take the St Regis Bora Bora at 70,000 points (£455 worth) or between £600 and £900 per night looking at a few random days in the next couple of weeks. Of course, it's just as easy to find hotels and dates where you won't get anything like 0.65p.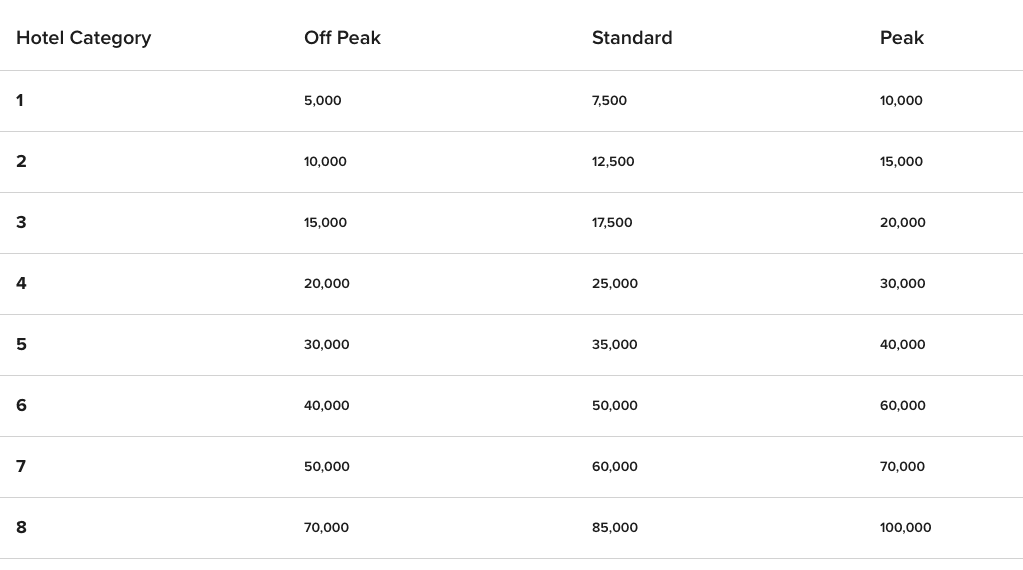 Summary of changes
Total changes: 2185
Going down 1: 498
Going down 2: 1 (Four Points by Sheraton Bali, Ungasan)
Going up 1: 1686
As you can imagine, with those numbers there are changes all around the world. Here are some highlights.
Hotels moving down
In the UK, 4 Heathrow Airport hotels are going down:
Aberdeen Marriott Hotel
AC Hotel Belfast
Bristol Marriott Royal Hotel
Courtyard Edinburgh West
Courtyard Glasgow Airport
Heathrow/Windsor Marriott Hotel
Moxy Aberdeen Airport
Moxy London Heathrow Airport
Newcastle Gateshead Marriott Hotel MetroCentre
Northampton Marriott Hotel
Renaissance Manchester City Centre Hotel
Sheraton Heathrow Hotel
Sheraton Skyline Hotel London Heathrow
Elsewhere, almost all are in categories 5 or lower anyway. There are a few luxury properties getting a little cheaper:
Hotel President Wilson, a Luxury Collection Hotel, Geneva, drops from 8 to 7
JW Marriott Hotel Singapore South Beach, drops from 7 to 6
The St. Regis Singapore, drops from 7 to 6
Cristallo, a Luxury Collection Resort & Spa, Cortina d'Ampezzo, drops from 8 to 7
Hotels moving up
In the UK, these go up. The ones in bold reach category 8:
Aloft Liverpool
Bankside Hotel, Autograph Collection
Breadsall Priory Marriott Hotel & Country Club
Hanbury Manor Marriott Hotel & Country Club
London Marriott Hotel County Hall
London Marriott Hotel Park Lane
St. Ermin's Hotel, Autograph Collection
The Glasshouse, Autograph Collection
The Langley, a Luxury Collection Hotel, Buckinghamshire
Threadneedles, Autograph Collection
Elsewhere, here are the hotels joining category 8, in Bahamas, Greece, Italy, Japan, Monaco, Spain, Switzerland, UK and USA:
The Ritz-Carlton, Aruba
French Leave Resort, Autograph Collection
The Cove at Atlantis
Domes Noruz Chania, Autograph Collection
The Romanos, a Luxury Collection Resort, Costa Navarino
Vedema, a Luxury Collection Resort, Santorini
Cervo Hotel, Costa Smeralda Resort
The Westin Excelsior, Florence
The Ritz-Carlton, Okinawa
Le Méridien Beach Plaza
Hotel Alfonso XIII, a Luxury Collection Hotel, Seville
Hotel Arts Barcelona
Hotel Maria Cristina, a Luxury Collection Hotel, San Sebastian
The Barcelona EDITION
W Barcelona
The Ritz-Carlton Hotel de la Paix, Geneva
Palm Beach Marriott Singer Island Beach Resort & Spa
The Cosmopolitan of Las Vegas, Autograph Collection
The Ritz-Carlton Residences, Waikiki Beach
The Ritz-Carlton, Boston
The Ritz-Carlton, Kapalua
The Ritz-Carlton, Los Angeles
The Ritz-Carlton, San Francisco
The St. Regis San Francisco
The Westin Nanea Ocean Villas, Ka'anapali
The Westin Riverfront Resort & Spa, Avon, Vail Valley
Meanwhile, virtually every Marriott group property in Paris is going up.
The Westin Dublin goes up to 7.
20 hotels in the UAE go up.
1291 of the increases are in the USA. 1347 of the increases are affecting hotels currently in category 4 or lower. Another 216 in category 5.
That leaves just 95 increasing from category 6, and 28 from category 7.
What's the damage?
Clearly it is a devaluation of sorts, but not dramatically. The vast majority of the hotels going up are cheaper ones that won't be on most people's radar for redemptions.
The jump at standard and peak rates from 5 to 6 is a big one, as is the jump from 7 to 8. That affects 246 hotels, so it is damaging.
In most respects, these increases represent changing economic and currency values. Redemption rates are going up but so are the cash rates. Overall, I think this leaves the valuation of a Marriott point much as it was. What it does change though, is the importance of picking your moment.
If you can travel off-peak and pick where you use your points you can still get a decent return. Travelling at quieter times will mean you avoid the new "inventory restrictions" too.
Here's a link to the full list of category changes.
Don't forget to book or cancel if your intended hotel is going up / coming down.