Riding the train from Ella to Kandy
You're sitting in the open doorway, feet hanging out, camera around your neck, warm breeze on your face. The gentle swaying and click-clacking of the train is hypnotic. Calming. Across a valley full of trees, the distant hills are shrouded in mist. On this side, the neat rows of tea bushes seem to blend into the surrounding land without boundaries or buildings or fences.
The plantations work their way between and around the trees and the natural features of the land. There have been no bulldozers, no slash-and-burn.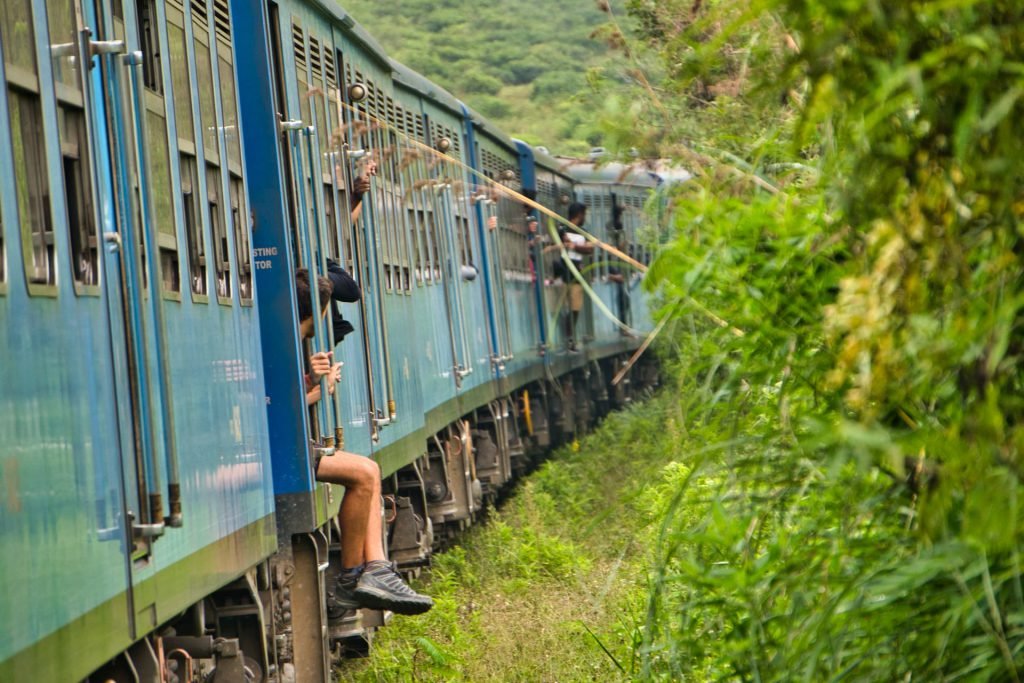 Just like the plantations blend into their surroundings, the train seems to be politely saying "excuse me" and stepping through, trying not make a fuss. it's not a thundering destroyer rushing through and trailing a wind of noise and disruption, it's a gently rattling harmless old thing. It feels as natural as the tea bushes and the cows.
Trundling, not racing.
You pull your legs in to avoid the leaves and branches as the train rubs up against nature. The door to the carriage opens behind you and an aroma of cumin and turmeric activates a sudden appetite you didn't know was there. You turn to see a basket of freshly hand-made vegetable pakoras and now your mouth is watering.
6 for less than a dollar. You return to your doorway. You're sitting on the floor of a train but it's the best train seat you've ever had, the view is stunning, the pakoras are finger-licking good and now you're not just grinning with happiness you're actually laughing at how impossibly good this is.
The Kandy – Ella train ride is one of the world's best. If you're going to Sri Lanka, it MUST go on your schedule. If you're not going to Sri Lanka, this is one very good reason why you should.
Some people will tell you that for the "authentic" experience you have to book second class. Nope. Book first class. Not because of the seats, because you won't be using them, but because the unforgettable part of riding the Kandy Ella train is sitting in the doorway.
In first class, there are fewer people, and you are more likely to get a doorway to yourself, or that you share with just a couple of others. In second class, you'll have saved exactly £1 on the ticket price and you'll be hanging out of the windows but you'll find it that much harder to get your own doorway.
Sitting in the doorway, uninterrupted, rolling past the tea bushes and trees and hills, smelling the plants, feeling the breeze, completely relaxed. It's very special. It's a nirvana of sorts, so peaceful. The train rolls along at such a calm pace that you feel like this will be never-ending, and you'd be happy if it really didn't ever end.
Onboard in first class looks like this:
But you'll be in the doorway like this:
When you sit in the door, do keep an eye open because sometimes there's not so much space. Other times there are wide open views over the plantations.
As the train clunks its way around the curves you get brilliant photo opportunities of the blue carriages passing by people working with hand tools and looking like echoes of a different time.
Even if you hardly ever take selfies, you might find it too hard to resist:
The route from Kandy to Ella, or vice-versa, takes about 6 hours. The best part is between Ella and Nanu-Oya, which takes about 2 hours and 20 minutes.
Some people ride the Kandy Ella train to swap from one town to the other to continue their travels.
At the Ella end, the last station is called Badulla and so you'll see this on timetables as the destination if you're heading to Ella.
In the other direction, the train continues beyond Kandy all the way to Colombo. Ella to Colombo is a 9 hour trip.
Many do what I did and ride from Ella to Nanu-Oya and then back again as a day trip.
Getting tickets online in advance is fairly easy, and you can also buy on the day. I'll give you details for all that stuff lower down. You need to be at the station with plenty of time, because it will be busy and it can be a little confusing. For example, what on earth does this mean? All the times are the same: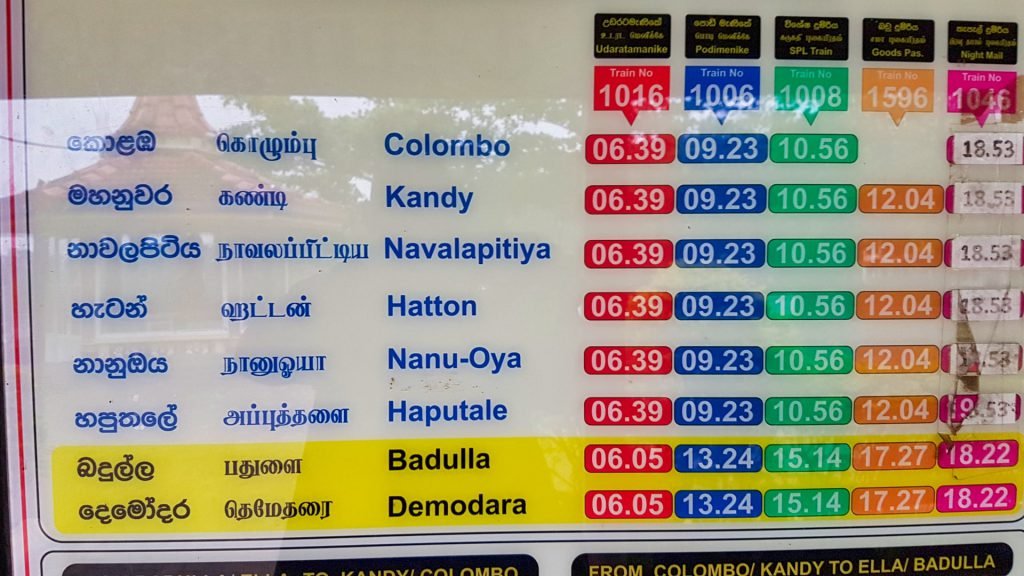 I don't get it. Fortunately, the bit underneath makes sense:
If you're buying tickets on the day, get there with plenty of time and make sure you have cash, no cards.
Here's Ella train station.
The schedules mean that you can get off at Nanu-Oya and go for a walk around the town for an hour or so. Be aware that if you intend to return to Ella on the same day then you have a limited number of trains to choose from and you should book all tickets in advance. Driving back from Nanu-Oya to Ella is a very long journey by road, much longer than the train journey.
Here's the Nanu-Oya station. Top tip: If you use the gents toilet, be prepared to hold your breath for the entire time you are inside the building.
The station doesn't like much but do spend some time wandering around and witnessing some very traditional ways of doing things.
Booking trains in Sri lanka including Kandy to Ella / Ella to Kandy
Note: You will also see Ella written as Elle. It's the same place.
You can't book Sri Lankan trains online, at least not directly. You can book with a local agency who will then get your tickets for you.
The booking system for trains in Sri Lanka opens 30 days before the travel date. If you are already in Sri Lanka, you can buy advance tickets at any of the main train stations, including Colombo Fort, Ella, Kandy, and Nanu-Oya. You will get the cheapest prices by doing it yourself, but you should still go as soon as you can to be sure of getting tickets, especially if you want first class.
Nearly all trains have unreserved cars, which cannot be booked in advance. These are second or third class, usually crowded, and can only be bought on the day. Tickets often don't go on sale until perhaps an hour before departure. In the unreserved carriages you are unlikely to get a seat. Unreserved cars will never sell out because they allow people to stand.
The reserved cars that can be booked in advance are first class and second class. They are never crowded because standing is not allowed. Your ticket will have a specific seat number, and it is usually not possible for people to move from second class cars to first class. There is a fixed number of seats and tickets will sell out 30 days in advance.
There are cars with air-conditioning and cars without. You are much better off booking cars without air-conditioning if you want to be able to open windows or doors to lean out and take photos. Some of the air conditioned cars do not have opening windows.
The "night mail" trains are slow and only have second class seats and unless you have an awkward schedule to meet then they are not recommended.
A couple of trains have an observation carriage. This is at the rear of the train and the back of the train is a large window allowing you to look backwards along the track. It is always very popular and you must book in advance. If you were lucky enough to get the seats right in front of the rear window then you would have an amazing view and great photo opportunities, albeit through a possibly dirty window.
On the other hand, except for the 4 people sitting right at the window, all the other seats will be looking over the heads of the people in front. Most of the observation cars don't have opening windows either.
I've never ridden in the observation car, but I much prefer being able to hang out of the window or sit in the door. I also think the best photos of the journey are the ones with the train curving through the bends, and any photos out of the rear windows will only have empty tracks.
Some people rave about it, others assume it's the best because "there's only one" and because "it's the observation car". It's not the Orient Express or the Rocky Mountaineer. It's a window at the back of a cheap train with basic seats. The biggest appeal is that the viewpoint, looking directly backwards, is one you don't normally get to experience.
You also don't normally get to sit in the doorway with the sun on your face and the smell of tea bushes as you brush past. If you didn't get seats in the observation car you really haven't missed out.
While there is not officially any catering on board, and you should take your own snacks and water, there are usually people selling traditional snacks.
Tickets for services between Nanu-Oya and Ella are particularly likely to sell out quickly as it is the most popular section.
It is not possible to buy first class tickets on the day. They are only available in the reserved cars and will sell out 30 days in advance.
If you're not going to be in Sri Lanka 30 days before your train journey, you book with an agent. You specify the trains you want, by date and train number, the number of tickets and the travel class. The agency will go to the train station at the 30 day point and buy your tickets. It may not always be possible for the agent to get your tickets, especially at peak dates. Tickets usually sell out on the first day.
You can improve your chances by making your booking as far in advance as possible. The agencies will buy all the tickets for a given day in the order that the bookings were made.
The agency will send you a confirmation number, which you exchange for a ticket at the train station on the day of travel. The tickets are non-refundable. Most agencies will refund your booking if you cancel before the 30 day point, but after that there are no refunds.
There are several agencies you can use but I'm only going to give you details for one, because it is the best one and the one that I use myself. Their service is reliable, their website is clear, they are friendly and efficient. That agency is VisitSriLankaTours.co.uk (I'm not affiliated with them in any way and receive nothing for this recommendation).
Their website is clear and has all the current timetables and train numbers. It doesn't matter which agency you use, they are all obtaining tickets direct from the train station 30 days before the travel date.
Sri Lanka train times
I'm reproducing the train times for the most popular section, between Kandy and Ella or Nanu-Oya and Ella. The prices given here are for booking at Visit Sri Lanka Tours. Tickets for unreserved second or third class carriages on the day in Sri Lanka will be much cheaper.
You will find the full timetables for all the other routes, such as the full journey from Colombo, at VisitSriLankaTours.co.uk where you can also book tickets. You can also check the schedule at Sri Lanka Railways on this page.
Kandy – Ella train times and prices
| | | | | | |
| --- | --- | --- | --- | --- | --- |
| Kandy | Ella | Number | Type | Class | Fare |
| 09:05 | 15:22 | 1005 | Express | 2nd Class | £13.00 |
| 09:05 | 15:22 | 1005 | Express | 1st Class | £14.00 |
| 11:10 | 17:27 | 1015 | Express | 2nd Class | £13.00 |
| 11:10 | 17:27 | 1015 | Express | 1st Class | £14.00 |
Ella – Kandy train times and prices
| | | | | | |
| --- | --- | --- | --- | --- | --- |
| Ella | Kandy | Number | Type | Class | Price |
| 06:40 | 12:38 | 1016 | Express | 2nd Class | £13.00 |
| 06:40 | 12:38 | 1016 | Express | 1st Class | £14.00 |
| 09:24 | 15:49 | 1006 | Express | 2nd Class | £13.00 |
| 09:24 | 15:49 | 1006 | Express | 1st Class | £14.00 |
Ella – Nanu-Oya train times and prices
| | | | | | |
| --- | --- | --- | --- | --- | --- |
| Ella | Nanuoya | Number | Type | Class | Price |
| 06:40 | 09:19 | 1016 | Express | 1st / 2nd Class | £12/11.00 |
| 08:03 | 10:22 | 1002 | Express | 1st /2nd Class | £12/11.00 |
| 09:24 | 11:58 | 1006 | Express | 2nd Class | £11.00 |
| 09:24 | 11:58 | 1006 | Express | 1st Class | £12.00 |
| 11:57 hrs | 14:35 | 1008 | Express | Observation | £12.00 |
| 18:55 | 22:10 | 1046 | Night Mail | 2nd Class | £11.00 |
Nanu-Oya – Ella train times and prices
| | | | | | |
| --- | --- | --- | --- | --- | --- |
| Nanuoya | Ella | Number | Type | Class | Price |
| 03:10 | 06:05 | 1045 | Night Mail | 2nd Class | £11.00 |
| 09:18 | 12:31 | 1126 | Slow | Observation | £12.00 |
| 12:19 | 14:42 | 1001 | Express | 1st /2nd Class | £12/11.00 |
| 13:00 | 15:22 | 1005 | Express | 1st /2nd Class | £12/11.00 |
| 14:50 | 17:27 | 1015 | Express | 2nd Class | £11.00 |
| 14:50 | 17:27 | 1015 | Express | 1st Class | £12.00 |
| 15:55 | 18:22 | 1007 | Express | Observation | £12.00 |